How to Fix BGMI Voice Chat Not Working: Today in this article I will sharing How to fix BGMI Voice Chat Not Working. I will provide complete guide with which you can easily fix bgmi sound problem issue and play BGMI with your friends without any issue.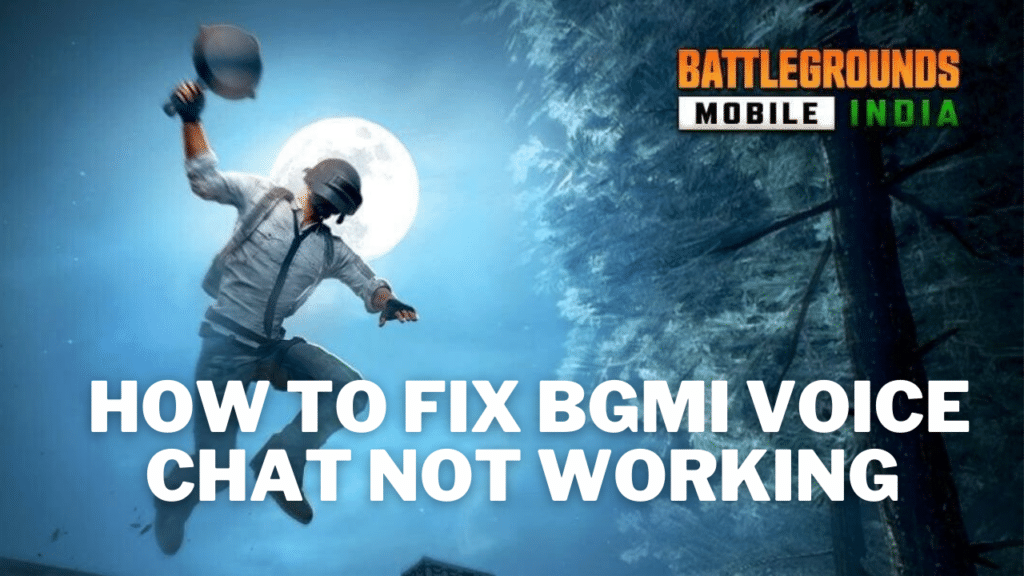 Methods to Fix BGMI Voice Chat Not Working
#1 Use a Quality Headphone
Headphones play a major role in voice chatting. So it is better to buy a good Headphone which has quality sound. When we are playing bgmi that time with quality headphone we will hear crystal clear sound of the footsteps of the enemies. By buying new quality headphone you can fix the issue.
#2 Try By Logout your Account
How to logout from BGMI : Open Your BGMI account then go to Settings and you can easily Logout from your BGMI Account.
After logout from BGMI account click on the Repair button.
Then this you can click on Routine Repair and the you must click on OK. This was the last step.
You must follow all these steps so that you can Fix BGMI Voice Chat Not Working. I hope you will fix this problem by reading this article. Last day I published an Article on How To Become Pro In BGMI. If you didn't read you can check out that also.
#3 Good Internet Connection
A good internet connection can also fix this problem because it might be poor internet connection your voice is not working. So I recommend you to take a good internet connection with a good speed.
BGMI Voice Chat को कैसे ठीक करें
1.गुणवत्ता वाले हेडफ़ोन का उपयोग करें
वॉयस चैटिंग में हेडफोन एक प्रमुख भूमिका निभाते हैं। इसलिए बेहतर है कि आप एक अच्छा हेडफोन खरीदें जिसमें क्वालिटी साउंड हो। जब हम उस समय गुणवत्ता वाले हेडफोन के साथ बीजीएमआई खेल रहे होते हैं तो हमें दुश्मनों के कदमों की स्पष्ट आवाज सुनाई देती है। नई गुणवत्ता वाला हेडफ़ोन खरीदकर आप समस्या को ठीक कर सकते हैं।
2.अपने खाते से लॉगआउट करके प्रयास करें
अपना BGMI खाता खोलें फिर सेटिंग्स में जाएँ और आप आसानी से अपने BGMI खाते से लॉगआउट कर सकते हैं।
BGMI अकाउंट से लॉगआउट करने के बाद रिपेयर बटन पर क्लिक करें।
इसके बाद आप रूटीन रिपेयर पर क्लिक कर सकते हैं और आपको ओके पर क्लिक करना होगा। यह आखिरी कदम था।
आपको इन सभी चरणों का पालन करना चाहिए ताकि आप BGMI वॉयस चैट नॉट वर्किंग को ठीक कर सकें। मुझे उम्मीद है कि आप इस लेख को पढ़कर इस समस्या को ठीक कर देंगे। पिछले दिन मैंने BGMI में प्रो कैसे बनें पर एक लेख प्रकाशित किया। यदि आपने नहीं पढ़ा है तो आप उसे भी देख सकते हैं।
3.अच्छा इंटरनेट कनेक्शन
एक अच्छा इंटरनेट कनेक्शन भी इस समस्या को ठीक कर सकता है क्योंकि यह खराब इंटरनेट कनेक्शन हो सकता है आपकी आवाज काम नहीं कर रही है। इसलिए मैं आपको एक अच्छी स्पीड के साथ एक अच्छा इंटरनेट कनेक्शन लेने की सलाह देता हूं।
Conclusion
This was all about for How to Fix BGMI Voice Chat Not Working . If you are happy by reading and liked my article then share this post with your friends. Also, check out Howtotips for more interesting articles and quality content.
Read Also: